Our firm's China Outbound Investment product was launched in 2008 with a view of providing  (to the extent possible) "primary source reconciled data" related to Chinese outbound investments. We did so after hearing so many corporate and institutional investors question the transparency or sources of such data appearing in numerous public sources.
We monitor all Chinese outbound investments across countries, industries and by type or component of investment. We exclude from our analysis all defense related or security related investments.  We do not make specific recommendations, either by industry or by sector, rather our objective is to provide solid data which can assist our corporate clients and/or institutional investors in identifying macro trends and to track major shifts in Chinese investment patterns.       ..... Read more
China Outbound Investments Q3 2017 – Vol. 35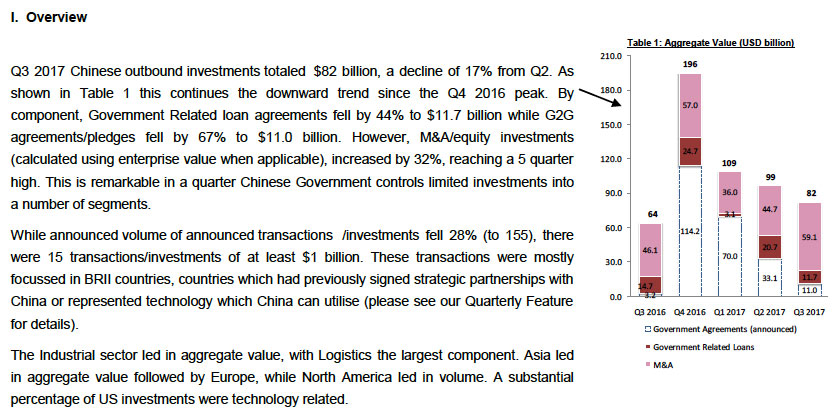 Read Full Edition .....
Le Royaume-Uni, porte-avions des investissements chinois en Europe
Chinese purchases of overseas ports top $20bn in past year
China is ramping up acquisitions of overseas ports as it expands its reach as a maritime power, doubling its investments in port projects over the past year to $20bn and pushing ahead with plans to open new shipping routes through the Arctic circle. Read More .....
China Outbound Investments Q2 2017 – Vol. 34
China Outbound Investments Q1 2017 – Vol. 33
 I. Overview 
Q1 2017 Chinese outbound investments totalled USD 109 billion, a decrease of 44% from Q4 2016. Moreover, $70 billion of this total represent pledges (as opposed to actual) to Saudi Arabia and Australia, leaving only $39 billion actually leaving China. Such numbers are entirely consistent with the capital controls instituted by the Chinese Government in Q4. 
Aggregate amounts declines across all 3 components: G2G, from $114.7 million in Q4 to $70 in Q1, M&A, from $57.0 million in Q4 to $36.0 billion and Government Related Loan Agreements, which fell from $24.7 billion in Q4 to only $3.1 billion in Q1.
Read More.....
 M&A Transactions / Equity Investments 
Q1 announced outbound M&A aggregate value was USD 36.0 billion, down 37% from the USD 57.0 billion in Q4. This quarter there were 10 other transactions of at least USD 1 billion, totalling USD 15.6 billion (43% of aggregate value), while the remaining 203 transactions comprised USD 20.5 billion.
Read More.....
4 April 2017 – China outbound M&A picks up in March after subdued months
Rising M&A activity in March boosts outlook for easing of China's capital curbs
30 March 2017 – Goldman, Lazard China Dealmakers Decamp for Upstart Funds
Top Goldman, BofA, Lazard bankers leave as advisory fees drop
by Cathy Chan and Jonathan Browning
Veteran China dealmakers at Wall Street banks and Western buyout firms are heading for the exits, in search of the more lucrative deals and higher remuneration offered by smaller funds.
Three senior merger advisory bankers from Goldman Sachs Group Inc., Bank of America Corp. and Lazard Ltd. have resigned within the past month for senior roles at fledgling investment funds, according to people familiar with their departures, who asked not to be identified discussing private information. Carlyle Group LP Managing Director Alex Ying left the firm in January after two decades to set up Rivendell Partners, which focuses on mid-sized buyouts in Greater China and Vietnam, other people said. Read More ......
The fDi Podcast: China restrictions on overseas investment already biting
Beijing reinstated limits on overseas investment in a push to limit the flow of hot money out of the country. ICBC's Helena Huang and Grisons Peak's Henry Tillman discuss with fDi deputy editor Jacopo Dettoni how these restrictions have already limited the activity of Chinese investors in Europe and the US, and add uncertainties over the final outcome of ongoing and future deals. Watch the Podcast
An Analysis of Short-Term Performance of UK Cross-Border Mergers and Acquisitions by Chinese Listed Companies
Using a unique and proprietary database of Chinese cross-border mergers and acquisitions into the UK from 2012 to early 2016, this paper investigates the short-term performance of UK cross-border mergers and acquisitions acquired by Chinese publicly-listed companies. Using event study analysis with four different time-period windows, the results show that Chinese acquirers have earned significantly positive abnormal returns on the first day following the announcement date of M&A deals, however, these positive returns faded away over time. In addition, we conduct the event analysis by sector subsamples. The findings suggest that Chinese acquirers in Real Estate and other business sector deals have gained positive abnormal returns, while those in the Financial sector had negative abnormal returns. Regarding the factors that drive stock performance, the paper takes five of the most related deal characteristics into consideration both in univariate analysis and regression analysis. The results indicate that target form (public/private) and absolute transaction size are the most influential factors on the short-term performance of these Chinese acquiring firms: acquirers engaged in deals where the target firms are UK private and small/medium-sized earn statistically significant higher abnormal returns than those UK public and large-sized targets.