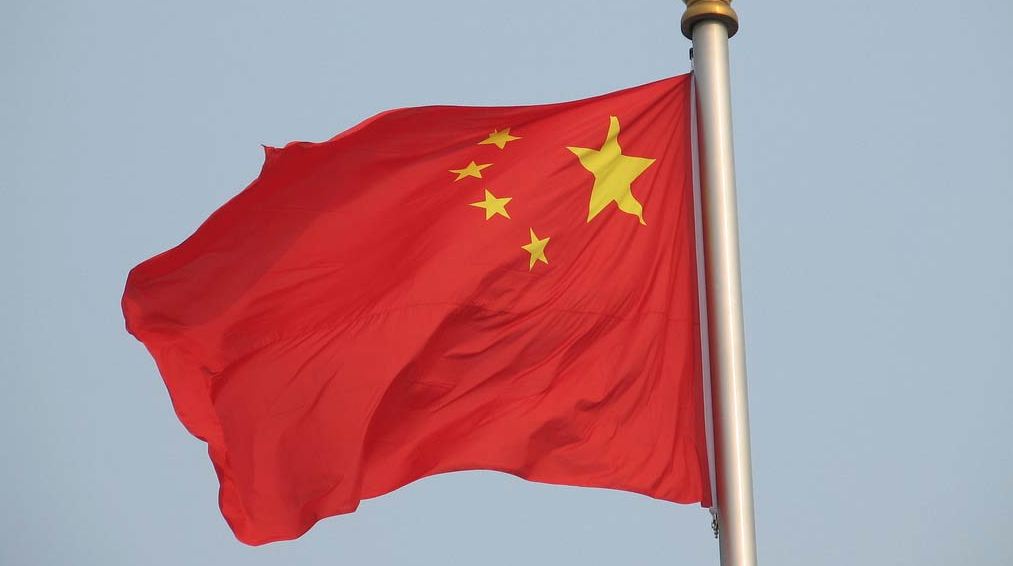 Lou del Bello - Freelance journalist, and regular IRIN contributor
China is pushing the largest economic development project the world has ever seen.
Stretching through Southeast Asia, Africa, and Europe, the Belt and Road project is a sophisticated network of corridors, ports, power plants, and industrial infrastructure that promises to share the benefits of more than $1 trillion in economic development with communities and governments across 65 nations.
But such a gargantuan project also has the potential to severely disrupt the environment and contribute to climate change, and at a crucial time when the world is debating how to limit impacts and stick to promises under the Paris Agreement. A record surge in atmopsheric CO2 levels has added fresh impetus to the implementation of the accord as governments convene in Bonn, Germany next week for the next round of talks, COP23.
While US leadership on climate issues has waned under the sceptical administration of President Donald Trump, China has, to some extent, looked to fill the void, becoming a leader in renewable energy and vowing to honour its climate commitments.
However, the massive Chinese-funded projects along its modern-day Silk Road will also facilitate the circulation and use of climate-damaging fossil fuels. So, given that Paris Agreement goals can only be met through a drastic reduction in global emissions, an important question remains: Is the ambitious Belt and Road project the start of a new, greener development model – or will it just promote unchecked growth?
All about the oil
Much like the ancient Silk Road, the Belt and Road initiative is, at its core, a network of roads and maritime routes designed to facilitate trade, increase transport efficiency, and in some cases, bypass geopolitical deadlocks.
The China-Pakistan Economic Corridor (CPEC), worth $62 billion, hinges on one of the most strategic nodes of the Belt and Road landscape: the deepwater port of Gwadar on the Arabian Sea. Through improvements of the port and the roads connecting the Pakistani coast to the Chinese region of Xinjiang, China hopes to achieve the double goal of easing tensions along the maritime routes of the South China Sea and increasing shipping efficiency.
Once the port is fully operational, analysts say China will be able to halve the length of time it takes to import a barrel of oil from Saudi Arabia – where 16 percent of China's oil imports originate.
"It currently takes 25 days for a barrel of oil to go all the way through to China," said Henry Tillman, chairman and chief executive officer at the investment bank Grisons Peak. "Gwadar port would cut that time in half for every one of the 1.4 billion of barrels that China imports daily."
Carbon-heavy contradictions
But China's Pakistan plans show the Belt and Road project's inherent contradictions when it comes to environmental impacts.
The CPEC blueprint is peppered with renewable projects; but carbon dioxide-emitting coal power plants still form a major role. Most importantly, the Pakistan project is poised to facilitate the circulation of fossil fuels, which remain vital to China's economy.
"I don't think that this climate policy commitment China has taken under the Paris Agreement… is strong enough in the context of what they plan for the Belt and Road," said Susanne Droege, a climate policy and international trade expert at the German Institute for International and Security Affairs. "It's such an economy-driven agenda".
An analysis by the Chinese NGO Global Environmental Institute estimates that China was involved in 240 coal-fired power projects in 25 of the Belt and Road countries by the end of 2016. With 52 projects in the pipeline, Chinese-funded coal projects in Belt and Road countries alone accounted for 12.66 percent of the world's planned projects; the 114 plants already in operation represent 4.5 percent of the coal currently being burned.
But while China continues to burn coal, renewable energy projects are also mushrooming along the Belt and Road.
Clean energy transition
In flood-prone South Asia, early warning systems buy precious time
At home, China has learnt the dangers of relying solely on fossil fuels.
Over the past 30 years, the country fuelled its booming growth through the unrestrained use of carbon, quickly becoming the world's biggest emitter and plunging into a dramatic water crisis. In recent years, however, the country has boosted its renewable energy capacity in a bid to clean up its own air and soil. It now profits from exporting clean energy technology and expertise.
"China has changed a lot when it comes to environmental protection," said Ruilian Zhang, a researcher with Queensland University in Australia who studies the environmental and social impacts of the Belt and Road.
"Because the Chinese government and the whole society are already painfully aware of the negative effects of pollution, it makes sense for us to help build a sustainable society not only in China, but also in the investment activities along the partner countries."
But Belt and Road's heavy investments in fossil fuel production and facilitation may suggest a parallel set of standards when it comes to environmental concerns abroad.
"China has today a well-developed body of regulation for the protection of the environment," said David Shinn, professor of international affairs at The George Washington University and a former US ambassador to Ethiopia. "The problem is that in terms of actions outside of China, they are all voluntary."
Shinn said state-owned companies, which mostly deal with the oil and gas sector, have a better record of environmental compliance, but they are also lower in number. In Ethiopia, 90 percent of the operating Chinese firms are privately owned.
It's also hard to tell whether China may be applying double standards when operating internationally, said Zhang.
"Our enterprises going abroad tend to apply sustainability measures developed in China that might not be as suitable in a different country," Zhang said. He explains that often standards have to be adapted to different contexts and are therefore hard to compare.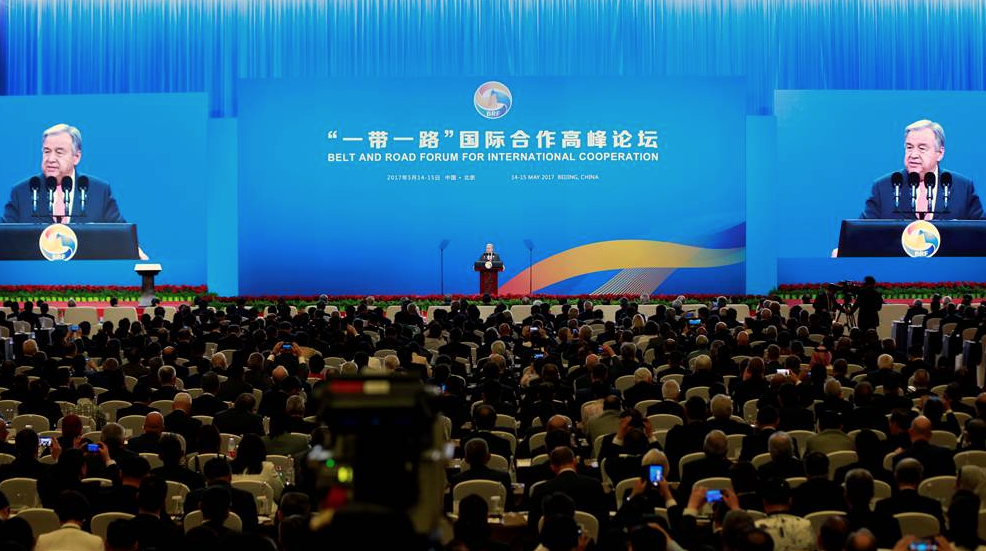 UN Secretary-General António Guterres addresses the Belt and Road Forum for International Cooperation in Beijing in May 2017.
Joining hands
China's official statements on the Belt and Road initiative have been dotted with vague wording encouraging green development.
"We should promote ecological progress in conducting investment and trade, increase cooperation in conserving eco-environment, protecting biodiversity, and tackling climate change, and join hands to make the Silk Road an environment-friendly one," the government stated in its Belt and Road "action plan".
At the moment, this vision remains "just a framework", according to Zhang.
China must still translate its vision into myriad policies, regulations, and measures guiding the implementation of a "green Belt and Road" – and this won't happen overnight, even if projects are already well underway.
"What we need now is time," Zhang said.
Even if China has taken huge strides in becoming a leader in renewable energy, Shinn doubts that climate impacts and the environment will be major imperatives for the Belt and Road agenda, at least in the near future.
"I suspect that such claims are more propaganda than reality," he said.