"If you want to develop, build a road," runs the Chinese phrase. Beijing's grand design to construct transport links between China and Eurasia represents the export of this simple philosophy. Beijing believes that building roads, railways and other infrastructure will help create a market in Eurasia for its goods.
$890bn
Beijing's estimate of investment in the 'New Silk Road' strategy
"The Chinese experience illustrates that infrastructure investment paves the way for broad-based economic social development, and poverty alleviation comes as a natural consequence of that," says Jin Liqun, president of the Asia Infrastructure Investment Bank (AIIB). 
But potential problems abound with financing the planned $890bn in investments. The payback period is often long, construction delays are common and political instability is widespread in the 64 countries embraced by the "New Silk Road" strategy.
$10bn
Investment planned by AIIB in 2018
The AIIB, a China-led multilateral institution with 57 member countries, is part of the potential solution. However, it plans to increase operations gradually, investing $1.5bn-$2bn in infrastructure this year, $3bn-$5bn next year and around $10bn in 2018, Mr Jin says.
The financing mother lode for the "One Belt, One Road" (OBOR) initiative — as the Silk Road project is known in Beijing — will continue to come from bilateral lending by the Chinese policy banks, analysts say.
"China will most likely have more impact operating through the usual bilateral mechanisms such as the policy banks, including the Export-Import Bank of China and the China Development Bank," says Sarah Lain, research fellow at the Royal United Services Institute, a London-based think-tank.
China seeking to revive the Silk Road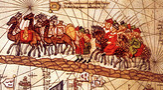 Beijing's initiative has led to both welcoming and wary reactions
The Export-Import Bank of China, which promotes foreign trade and investment, lent more than $80bn in 2015. By comparison, the Asia Development Bank lent $27.1bn. More than 1,000 projects financed by the ExIm Bank were in 49 countries involved in the OBOR initiative, according to Xinhua, the official news agency.
Not all projects financed by Chinese policy banks are driven by commercial logic, says Tom Miller, an analyst at Gavekal Dragonomics, a research company. A $46bn plan to finance an "economic corridor" through Pakistan, linking the port of Gwadar on the Arabian Sea to north-west China, is motivated partly by the need to find an alternative route for oil imports from the Middle East to avoid rising tensions in the South China sea. Mr Miller says Chinese officials privately admit they expect to lose 80 per cent of their investment in Pakistan, 50 per cent in Myanmar and 30 per cent in central Asia.
Ancient trade routes were founded on tax and credit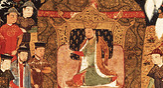 The 'One Belt, One Road' plan would have been familiar in China 2,500 years ago
Notwithstanding such forecast losses, Chinese lenders are starting to syndicate participation in OBOR projects to international private sector investors and lenders. 
"We are seeing a shift among the Chinese institutions in the OBOR projects toward syndication to international pension funds, insurance companies, sovereign wealth funds, private equity funds and others," says Henry Tillman, chairman and chief executive officer at Grisons Peak, a London-based investment bank.
He says institutions are increasingly seduced by the promise of long-term returns of 6 to 8 per cent on OBOR infrastructure. Even some government agencies appear keen. IE Singapore, the state-owned trade development board, has agreed to a partnership with China Construction Bank to finance OBOR projects, with about $22bn in funding envisaged.