Majority of loans approved by largest policy lenders support expansion of trading routes
China's commitment to building infrastructure in countries covered by its "One Belt, One Road" initiative — a scheme to boost development along ancient "silk road" trading routes between China and Europe — is revealed by data showing that the lion's share of Beijing's recent overseas lending pledges have been in countries that lie along the routes.
A study by Grison's Peak, a boutique investment bank based in London, shows that the majority of 67 overseas loan commitments made by Beijing's largest policy lenders, the China Development Bank and the China Ex-Im Bank, have been in areas defined by the "One Belt, One Road" strategy since it was agreed in late 2013 (see map).
If loans to regions not included in the strategy — namely Latin America and west/central Africa — are excluded from calculations, the proportion of overseas state loans that were directed to countries on or close to the trading routes is 76 per cent of total overseas state lending by the institutions during the five quarters ended in March this year, the Grison's Peak study shows.
The "One Belt, One Road" strategy, a key policy of the administration of President Xi Jinping, was first incorporated into official Communist party documents in late 2013. Its principal aim is to boost connectivity and commerce between China and 65 countries with a total population of 4.4bn by building infrastructure and boosting financial and trade ties.
These aims also come through in the data crunched by Grison's Peak. Loans for infrastructure projects, including road, rail and power schemes, made up 52 per cent of the 67 loans pledged while trade finance accounted for a further 30 per cent. The value of the 67 loans included in the study was $49.4bn.
The focus on infrastructure is consistent with what Parag Khanna, senior fellow at the New America Foundation, describes as China's strategy to build up "infrastructure alliances" with countries it regards as important for commercial and strategic reasons. 
"Infrastructure is a way of asserting connectivity . . . as a tool of geopolitical leverage," Mr Khanna said. "Infrastructure, particularly railways, has been a tool of extending influence for a couple of hundred years now, but not necessarily on this scale."
"China is winning the new 'Great Game' by building the new silk roads," Mr Khanna said, referencing the 19th century rivalry between Russia and Britain for influence in Central Asia. 
"The silk road economic belt . . . is not new. There is 25 years of evolution on these projects. The purpose has always been the same for China, to smooth the flow of commodities imports and to smooth the outbound flow of goods," he added.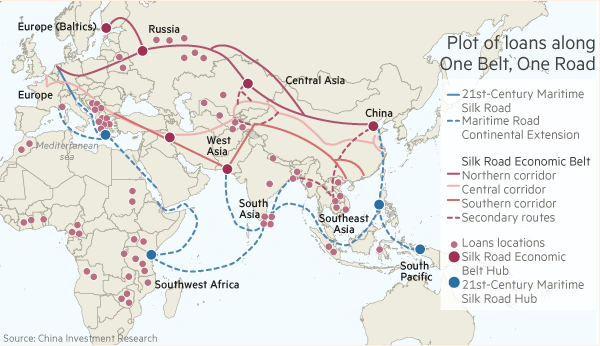 Just as in the development assistance programmes led by western powers and Japan in previous decades, the policy bank loans extended under the "One Belt, One Road" initiative have mostly been tied to the involvement of Chinese companies, either as suppliers of machinery and raw materials or in constructing and operating projects. 
Grison's Peak found that 70 per cent of the loans pledged were linked to the involvement of a China-based corporation. While this has been standard for trade finance, it seems now to have become a standard feature of Chinese state lending to infrastructure projects overseas as well, the investment bank said.
Lastly, the concessionary nature of Chinese state lending may be diminishing. Though interest rate details on state loans overseas are often not disclosed, Grison's Peak estimates that during the early stages of the "One Belt, One Road" project, rates "seemed to average 2 to 2.5 per cent". More recently, they have been in the region of 4 to 4.5 per cent, the bank said.