Global Trade Review – ASIA / 01-07-15 / BY FINBARR BERMINGHAM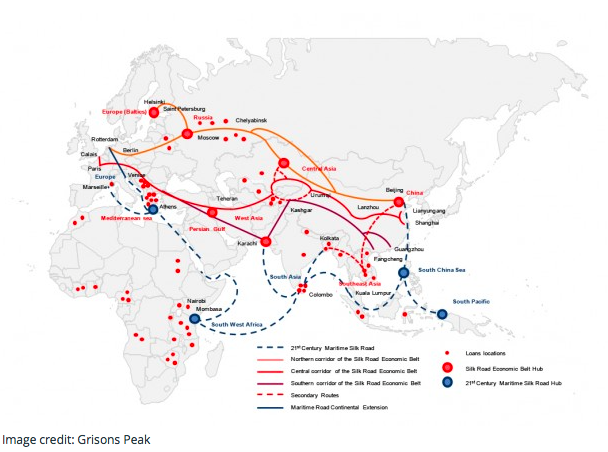 Chinese lending is being diverted towards the countries forming the New Silk Road, with overseas lenders also becoming involved in the project.
The lending of the China Development Bank (CDB) and the Export-Import Bank of China (Cexim) has become closely aligned with its One Belt One Road strategy, in the fields of industry, infrastructure, energy, trade finance and financial services.
Research conducted by Grisons Peak, a London-based advisory firm, shows that "with the exception of loans/commitments to Western African countries, there appears to be a strong correlation between the pro forma portfolio of commitments over this period and the One Belt, One Road route (designed to bind together 65 countries and 4.4 billion people)".
The One Belt, One Road plan will span from Southeast Asia (potentially as far as Australia), through Central Asia to Europe and along the North and East of Africa.
The study shows that after removing the six Latin American loans and the ten Central and Western African loans, 76% of the pro forma portfolio volume was in or near portions of the land-based Economic Silk Road or Maritime Silk Road.
Henry Tillman, the Chairman of Grisons Peak, tells GTR that some of the projects are almost certain to have attracted some overseas capital – which is an interesting development, considering that the One Belt, One Road scheme is being billed exclusively as a Chinese government initiative.
For instance, in October 2014, the Oman government's State General Reserve Fund signed an agreement to take an equity stake in a port being constructed in Tanzania by the China Merchant Group (CMG) as well as the railway network leading to it. The agreement specified that US$500mn would be designated for port financing for 2013 (via Cexim), for interest-free or low-interest loans to get the project started.
Construction of the project is expected to commence today (July 1). Similar agreements are said to be in place in Malaysia, where China has agreed to pump US$10bn in total into the country's electricity grid, in four different projects.
"The One Belt, One Road initiative by far exceeds the development of linear connections between Europe and Asia," Moritz Rudolf, Merics
In the week in which the Asian Infrastructure Investment Bank (AIIB) was formally launched with a US$100bn kitty, the study shows how serious China is about overseas investment and about expanding its economic and geopolitical sphere of influence. It also suggests that Beijing is seeking to be more collaborative than previously thought, as it looks to take on greater leadership in global trade and investment.
"The One Belt, One Road initiative by far exceeds the development of linear connections between Europe and Asia. In fact, Beijing strives to establish a comprehensive Eurasian infrastructure network. Trans-regional corridors are to link the land and sea routes. As the primary investor and architect of the Eurasian infrastructure networks, Beijing is creating new China-centred pipeline, railway and transport networks. In addition to this the Chinese leadership is focused on the expansion of deep-sea ports, particularly those in the Indian Ocean," says Moritz Rudolf of the Mercator Institute of China Studies.
Many of the loans will likely be issued with the caveat that China must benefit in some way from their expenditure, aside from interest payments – for example, through the use of Chinese contractors in construction, or for concessionary or priority access to resources.
Some of the largest Chinese lending since the announcement last year include a US$3bn loan to the governments of Cambodia, Myanmar, Thailand and Laos, to be used for infrastructure projects and trade finance purposes, a US$2.2bn Cexim facility extended to the Kenya Railways Corporation for a new rail link between the Indian Ocean port of Mombasa and the Kenyan capital of Nairobi, and two facilities to companies in Indonesia for power plants, one totalling US$1.5bn and another worth US$1.2bn.
While the largest loans in the Chinese state-owned portfolio were to South American countries (a US$5.5bn loan to the Ecuadoran government for infrastructure projects and US$4.7bn for a hydroelectric project in Argentina), the most common names on the register are those countries that stand to sit along the ambitious initiative's route.
Frequently found are the likes of Sri Lanka, Nepal, Russia, Greece, Myanmar, Indonesia and Vietnam. Some of the political implications of these are clear: Russia and China have brokered closer ties since the Russian invasion of Crimea saw it frozen out of the European markets, leaving China to strike favourable deals on the purchase of Russian gas. China has been actively pursuing Greek assets as a means of gaining a gateway to the European market.
But the overall picture is one of China growing its global investment footprint through Cexim and CDB. While CDB loans in renminbi have been steadily declining since 2011, it has increased its foreign currency lending by 20%, in the year to 2013.
Cexim, from a lower base, has increased lending by 82.2% in 2011, 18.7% in 2012 and 5.7% in 2013. At a time in which the west is questioning the need and efficacy of export credit agencies (ECAs), China is still pouring serious capital into its own institutions.
This week, the Export-Import Bank of the United States (US Exim) was forced to stop lending, after failing to secure an extension to its charter, due to opposition from the Republican majority in both chambers of Senate and Congress. Chairman Fred Hochberg has repeatedly warned of the dangers of such a situation, when perceived rivals such as China are increasing government support for their exporters.
China is simultaneously pushing for an EU-China investment treaty that would make it easier for Chinese companies to invest in the European market. Chairing an EU-China Summit in Brussels this week, China's Premier Li Keqiang described bilateral investment between the two as "hardly satisfactory".
He called for a free trade area between Europe and China, saying: "The scale of two-way investment, a mere $20bn or less in 2014, is hardly satisfactory given the big size of the Chinese and EU economies and the huge volume of two-way trade."
"This major investment from China in the EU's new infrastructure fund could be game-changer for Europe's roads, railways, airports and energy networks," Helena Chan, Pinsent Masons
Helena Chan, Beijing-based partner at Pinsent Masons tells GTR that if China were to invest in the key infrastructure projects in Europe, it would be a huge boost to the European economy.
She says: "This major investment from China in the EU's new infrastructure fund could be game changer for Europe's roads, railways, airports and energy networks. While Premier Li has not yet given a figure for how much Beijing will spend, this is another sign of China's commitment to seeking out overseas investments that promise steady and long-term returns. We have already seen billions of yuan heading into Europe, such as Manchester Airport City and Thames Tideway in the UK, and this will usher in a host of new opportunities for China-EU ties."
It represents another move by China to counter the US' increasing prioritisation of trade agreements with key markets. Having launched the AIIB arguably as a direct response to the Trans-Pacific Partnership (TPP) being negotiated between the US and Asia Pacific, some are reading the latest move as an effort to counter the Transatlantic Trade and Investment Partnership (TTIP) between the EU and US.